Programs & Services Links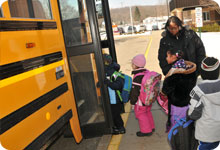 The Transportation department handles bus scheduling for the District as well as any other transportation-related requests. Please call (269) 488-1290 if you have questions.
Go to the District's Forms & Reports page for transportation request form and others.
SECURITY AND SAFETY STARTS WITH YOU AND YOUR CHILD
School buses have come a long way since horse-drawn carriages first transported children to school back in 1886. Today, school buses are one of the safest forms of transportation on the road. School bus fatalities are relatively rare, even without the use of seatbelts.
However, children, parents, and bus drivers all need to do their part to ensure a safe and secure bus ride to and from school. Even something as convenient as the school bus has its own set of safety precautions that communities should be aware of. Learn more by downloading Tips For a Safe Ride (PDF)
TRANSPORTATION DEPARTMENT STAFF
Theresa Weckerle, Director of Operations (Transportation, Maintenance, Building Use)
(269) 488-1290
Email Theresa