The first Parchment athletics email update was sent out at 7:43 p.m. If you did not receive it and would like to receive future emails please sign up for the distribution group.
https://forms.gle/37RnvPXLE41z9Ypr9

HS Fall Sports Reminder: You MUST have a physical to practice on Monday. No physical - no practice. You can take your physical to the office OR turn it into your coach. All physicals must have an exam date AFTER April 15, 2022. Go Panthers!

The athletic department is looking for student volunteers to ball run for boys and girls soccer matches. The boys play in the fall and girls play in the spring. Any student that ball runs five times will receive a free Panther pass which gives them free admission for the entire 2022-23 school year for all home non-MHSAA tournament events. If you are interested in ball running please contact Mr. Davis via email. The first boys soccer match is Wednesday, August 16 at 6:00 p.m. Go Panthers!

If you or someone you know is interested in purchasing Parchment athletics season passes, follow the steps in the picture below. All tickets for home non-MHSAA athletic events will be digital (no cash). Senior citizens please email Mr. Davis regarding tickets. Go Panthers!

Youth Sports Update Parchment will be offering youth volleyball similar to what we did with basketball over the winter. We will still offer boys and girls basketball, but at different times. More information will be released shortly regarding youth volleyball. Go Panthers!

Reminder: All student-athletes must have a physical on file before participating in practices at the high school and middle school level. Fall high school practices begin Monday, August 8 and middle school practices begin Monday, August 22. Go Panthers!

The canopy's have arrived! Thank you to our athletic boosters for approving new canopy's for our teams to use at outdoor competitions. Go Panthers!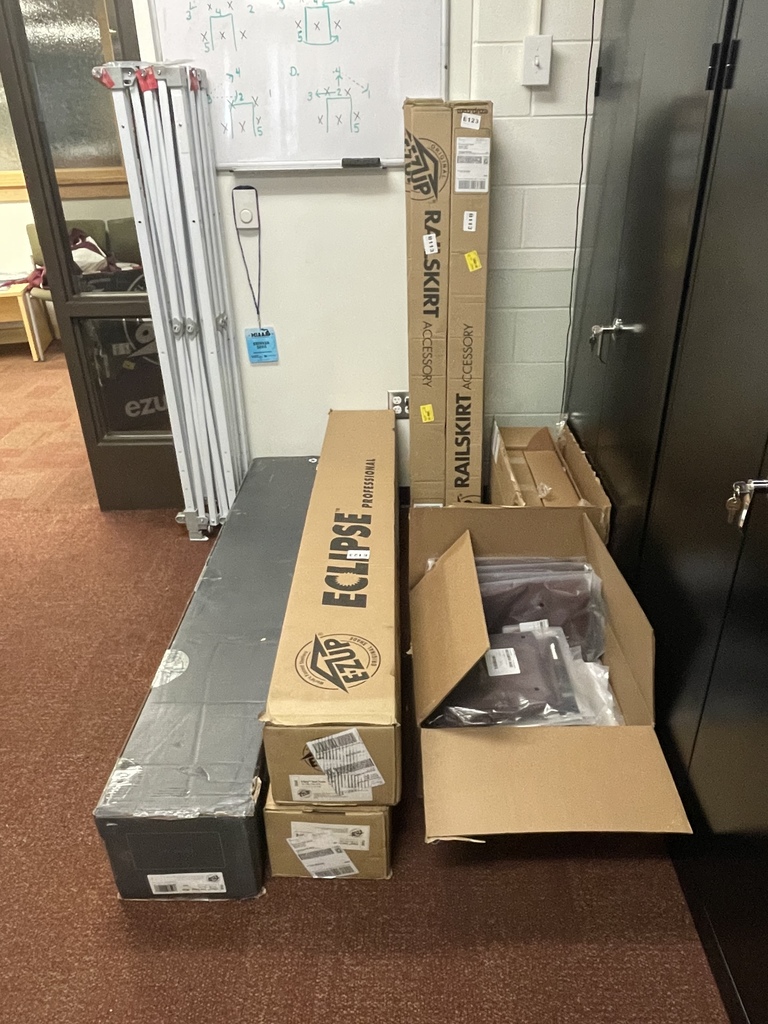 Athletic update: If your child is planning on participating in athletics at the high school OR middle school, please complete the Student Central requirements ASAP. Student-athletes will not be eligible to participate in athletic contests without completing these requirements!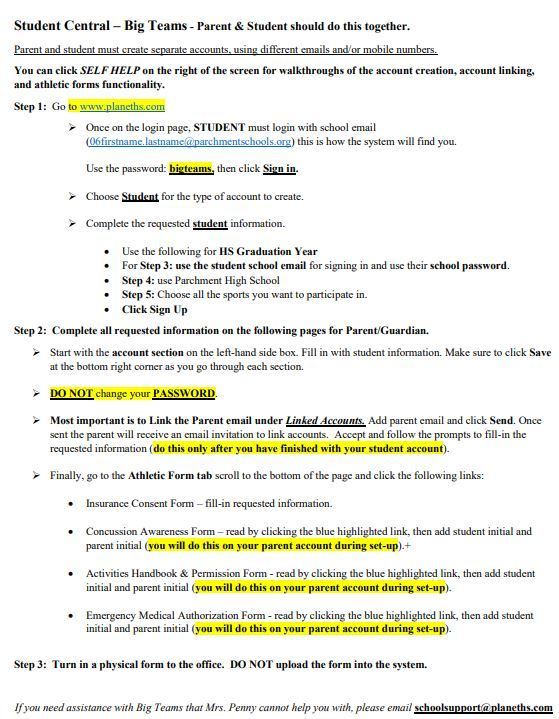 The next athletic boosters meeting will be on Thursday, August 4 at 5:00 p.m. in the high school main office conference room.

If you have a student-athlete(s) than plan on participating in sports this coming school year please take a couple of minutes to complete this form. Completion of this form will add you to the Parchment athletics email list.
https://forms.gle/8Ygriaba31C5BuY76
Go Panthers!

Check out the fall sports important dates. Go Panthers!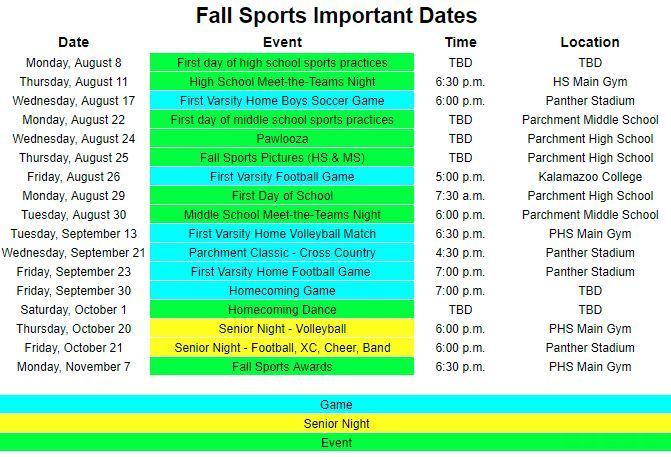 On Thursday, August 25 all fall sports teams will have their pictures taken at Parchment high school. The picture below shows the times for each team. Please plan on your child attending pictures and practice at PHS on this date. Go Panthers!



Congratulations to the varsity football offensive line on taking 1st place in the Green Division at the Ram Tough Lineman Challenge at Galesburg-Augusta this evening. Below are some outstanding performances: Agility: Aydin J (1st), Brady N (3rd) Bench: Aydin J (2nd) Sand Bags: Regis V (3rd) Sled: Regis V (1st), Alex O (3rd) Team Relay (1st) Deven B also won 1st Place Overall in the JV Sled Competition. Lineman are often underappreciated and this goes to show that hard work and dedication this summer is paying off. Go Panthers!

The athletic department is currently looking for any information on league champions in most sports, mostly from the 1990s. If you have information on who won the league in any sport shown in the picture from 1991-1999 please contact
brennan.davis@parchmentschools.org
.

The athletic boosters meeting originally scheduled for next week has been moved to tonight (7/5/2022) at 5:30 p.m. due to schedule conflicts. If you are interested in attending virtually please contact Brennan Davis via email (
brennan.davis@parchmentschools.org
).