Girls On The Run Late Registration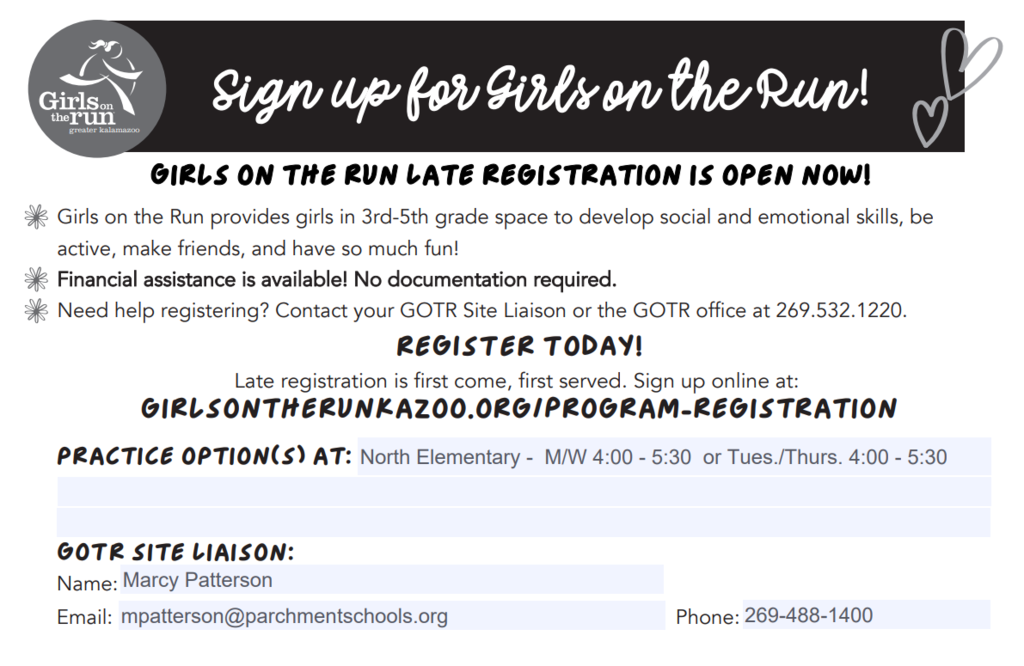 Join us in dressing up for these Holiday Theme Days for next week.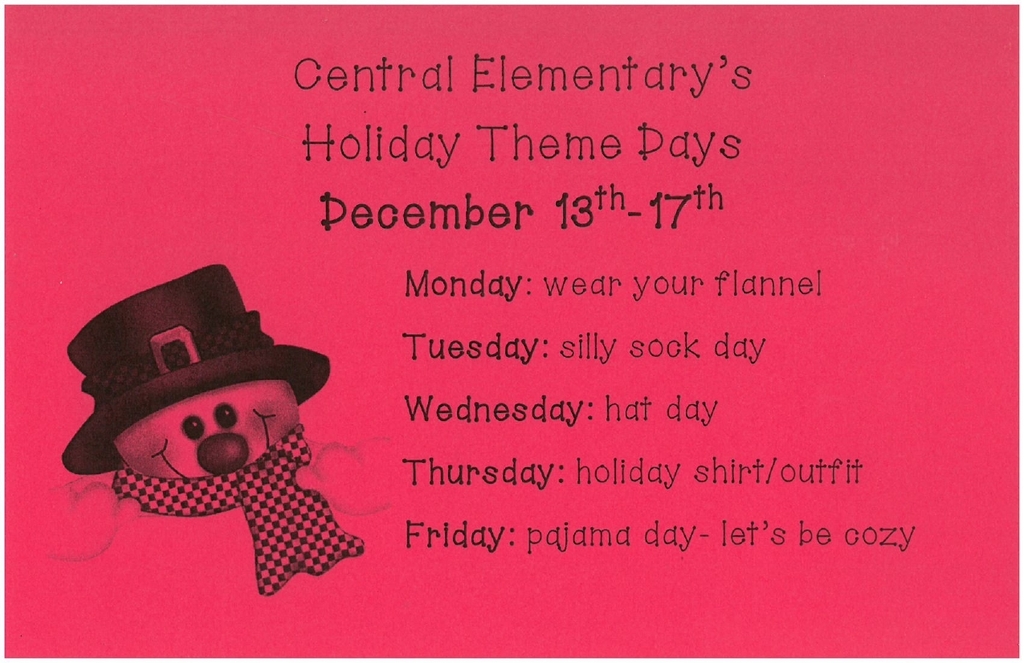 Meet Duncan, our new therapy dog.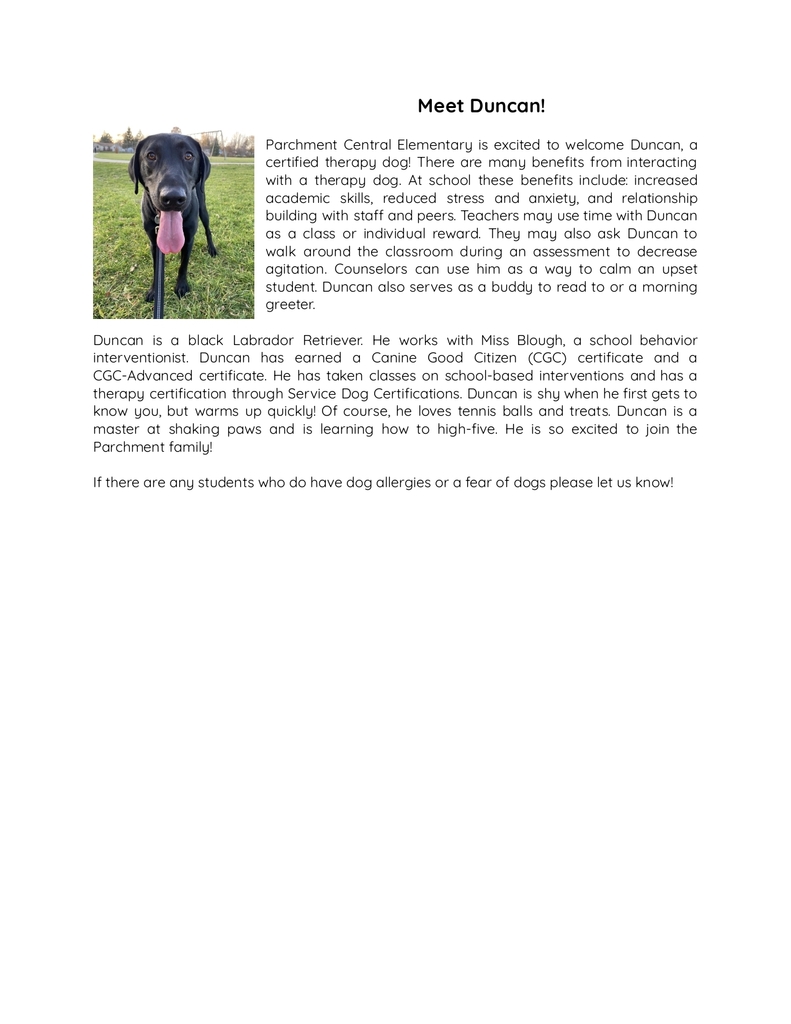 Click on the image for the school schedule for this week and next.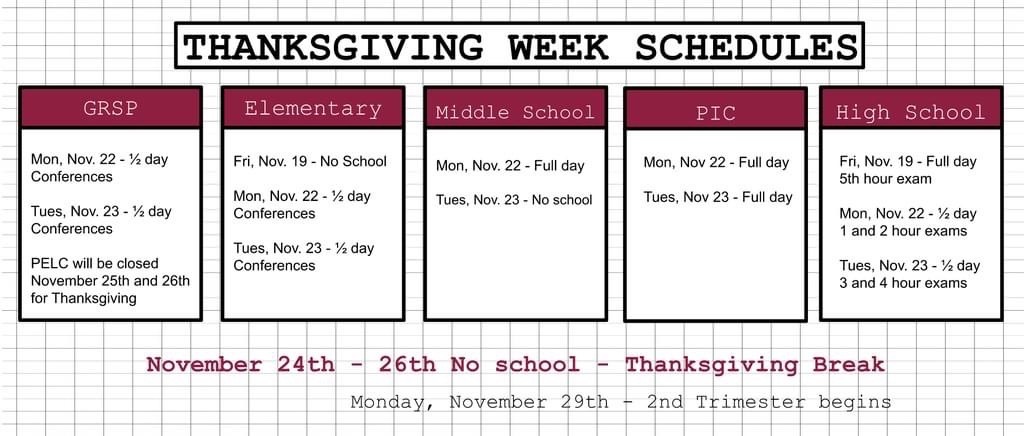 Check out the flier for information about the Parchment Cheer Clinic for grades K-8th.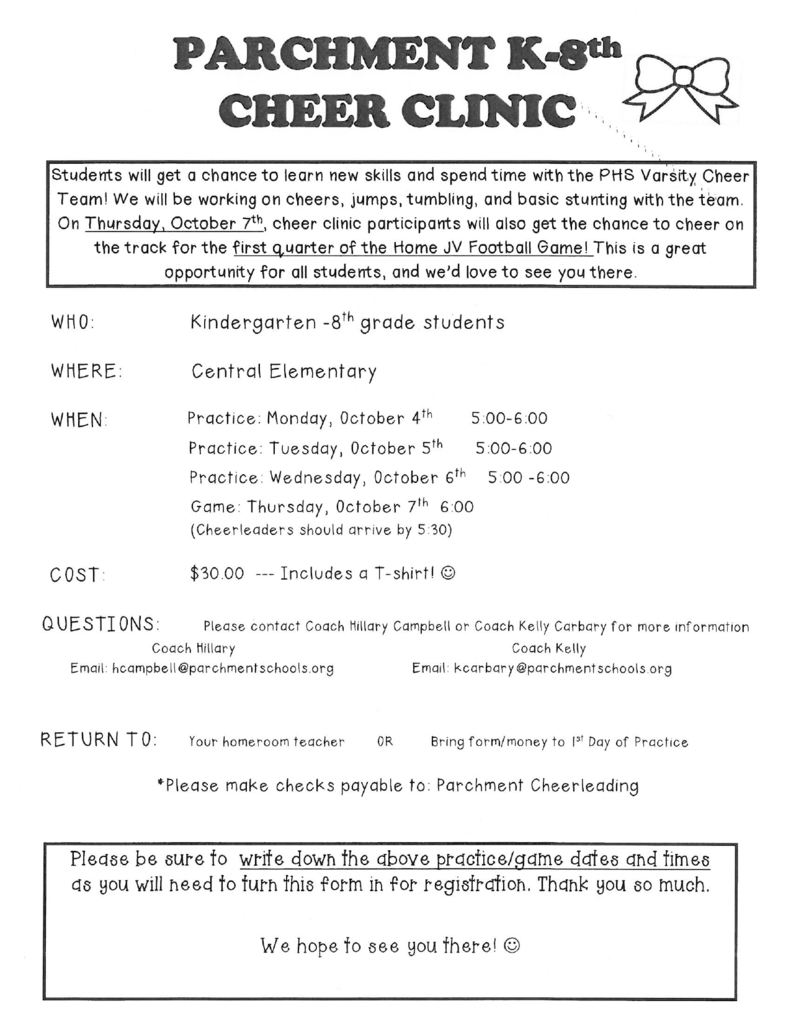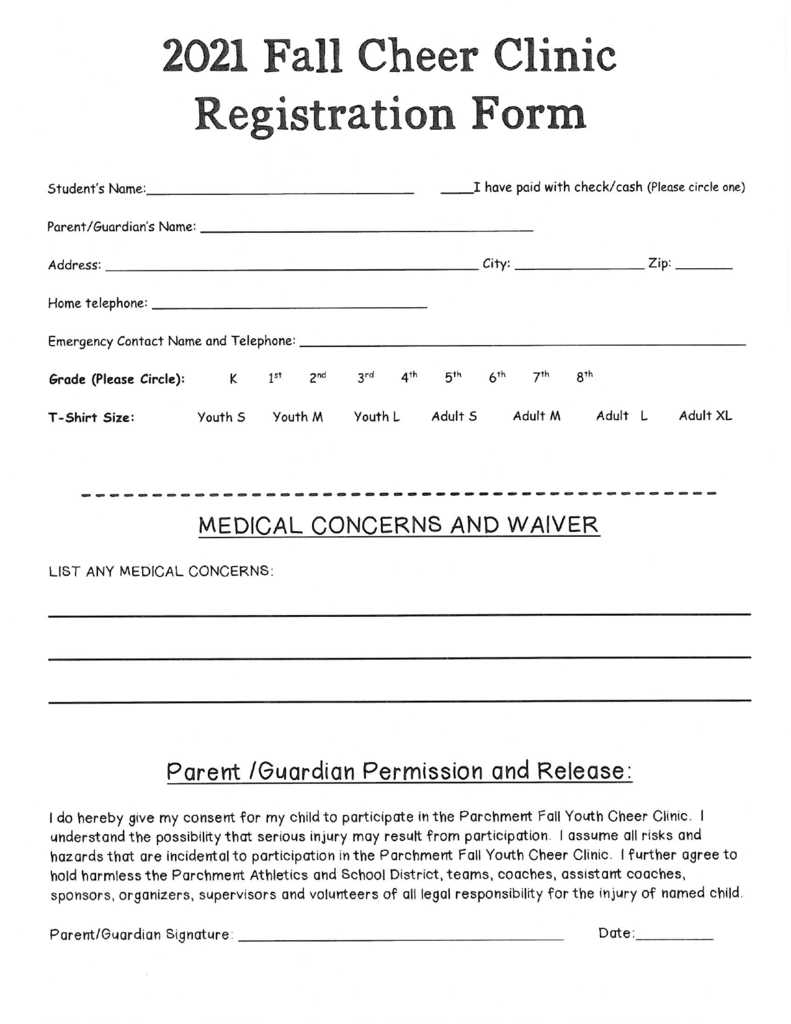 Homecoming is Friday, September 17th. Join us for these fun dress up days.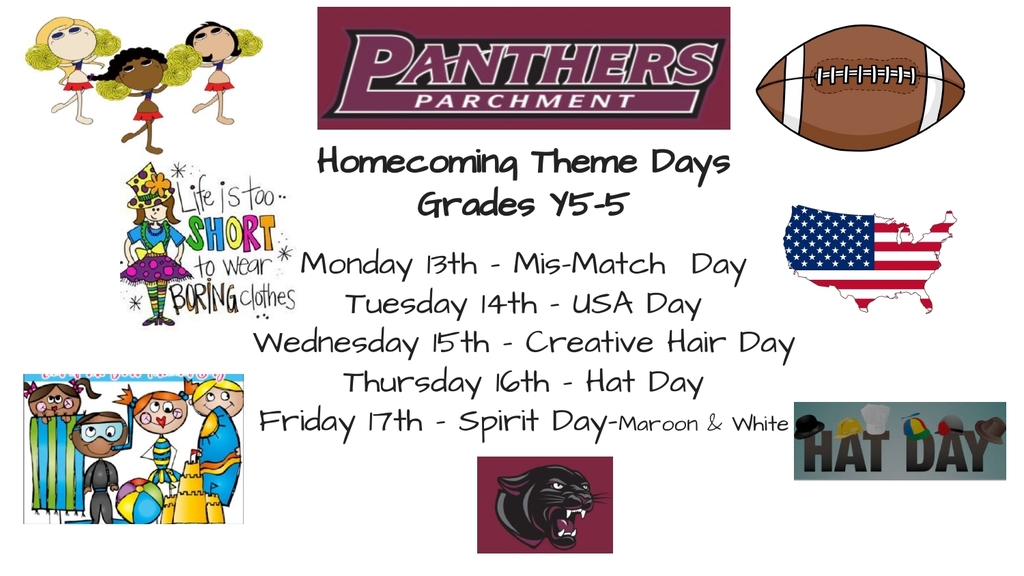 Join us for the open house on Wednesday, August 25th, 5:00-6:30. This is an opportunity for you to meet your teacher and fellow classmates. We can't wait to see everyone.

Virtual students: We are collecting Chromebooks on Friday, June 11th from 11:00am-3:00pm at your elementary school. If this time doesn't work, please call your building and make other arrangements.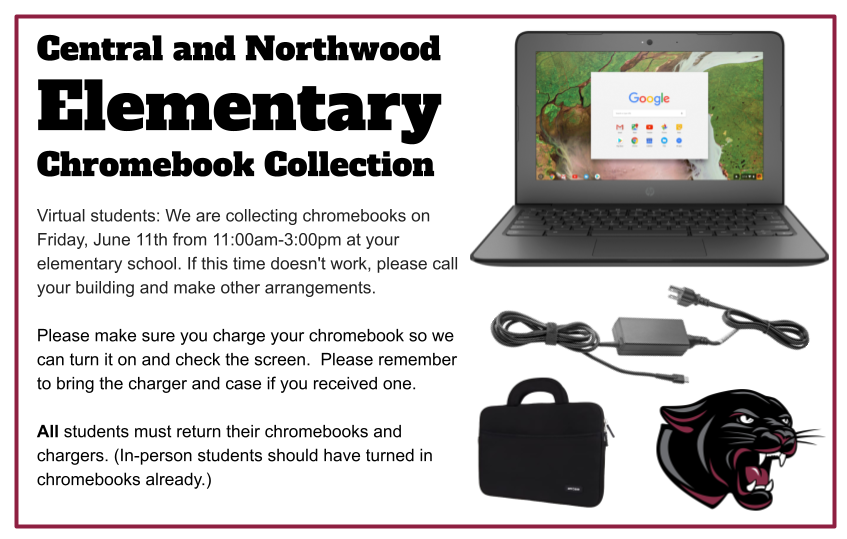 Virtual students: We are collecting chromebooks on Friday, June 11th from 11:00am-3:00pm at your elementary school. If this time doesn't work, please call your building and make other arrangements. Thank you!
Check out the March Is Reading Month Calendar for some fun things happening at school.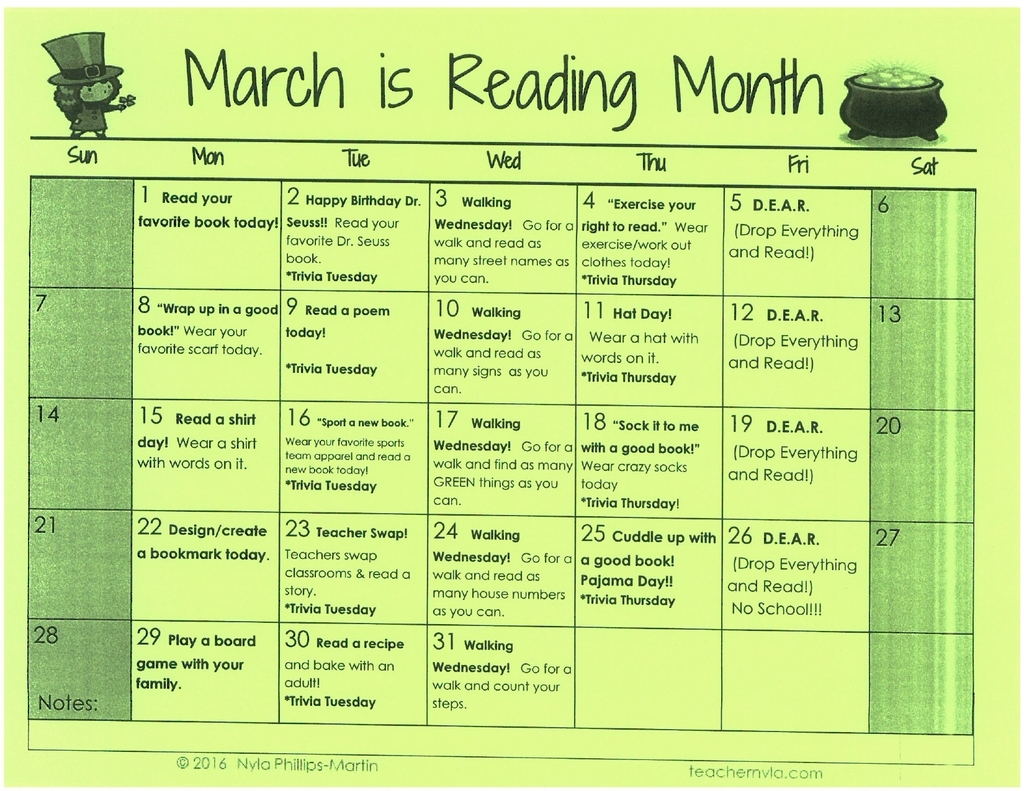 Need technology help? We are here for you. Check out this flier for dates and times of trainings for things like Gmail, Google Drive, Google Classroom, Google Meets, Flip Grid, School website, Playlists and any other questions you might have.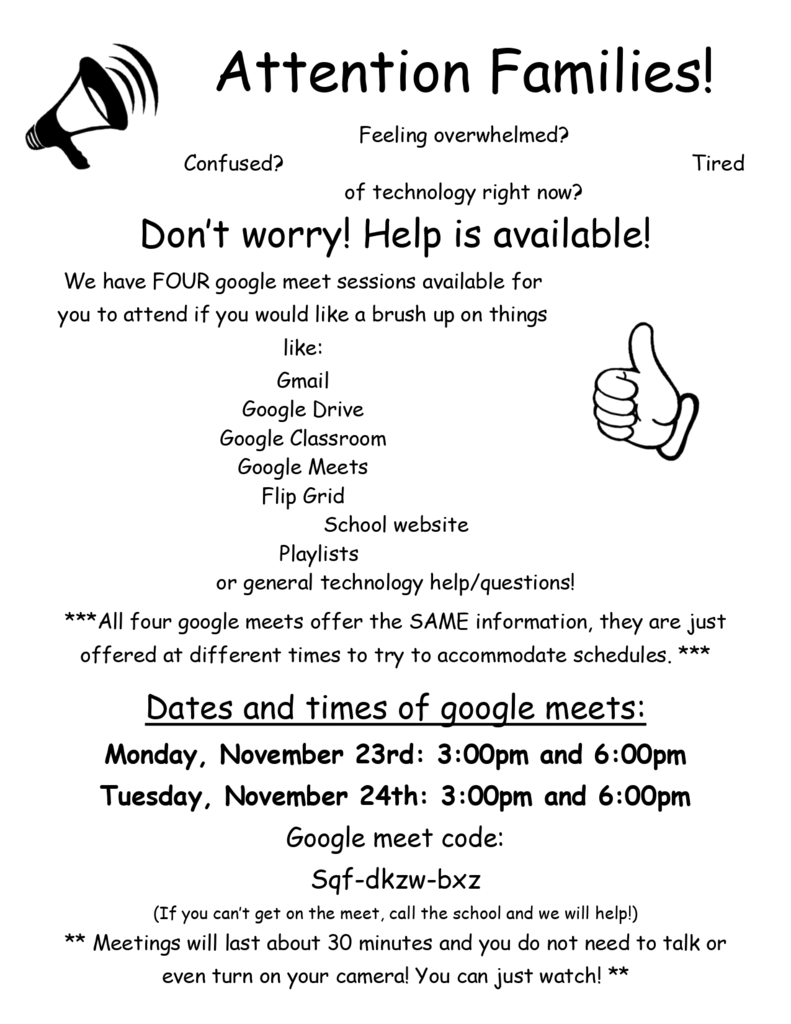 Check out the November Newsletter for information about conferences, school calendar updates and when to send your child to school if they aren't feeling well.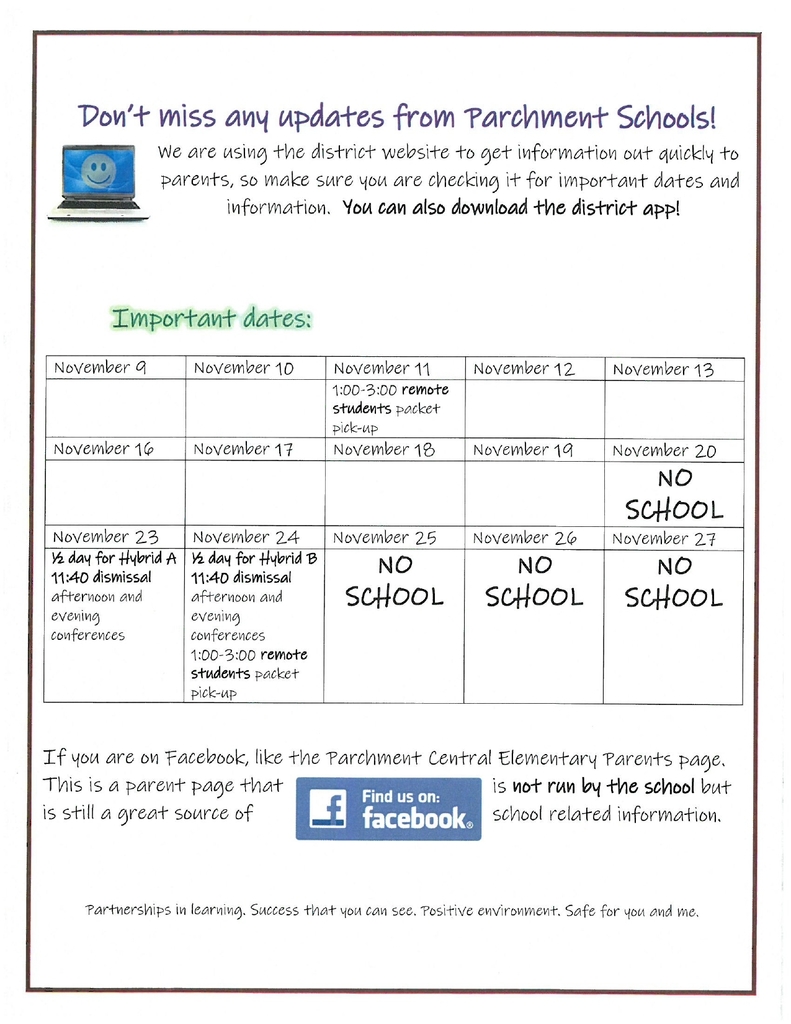 Picture retake day is coming up. Hybrid A students November 9th Hybrid B students November 13th Remote students you can come either day between 9:00-11:00.
Donut miss your meet on October 7th. As many of you are aware, our state funding is based on attendance on very specific "count days" throughout the year. This year, because of our Hybrid Learning Plan , our first count day falls on a Wednesday. Since no students will physically attend school on that day we will need to take attendance via virtual attendance. Please join your class at their Google Meet so we are able to count you as "present" and get state funding to help our students throughout the year. Each teacher has sent home a note with information about their Google Meet, please let your teacher know ASAP if you are unable to attend the meet.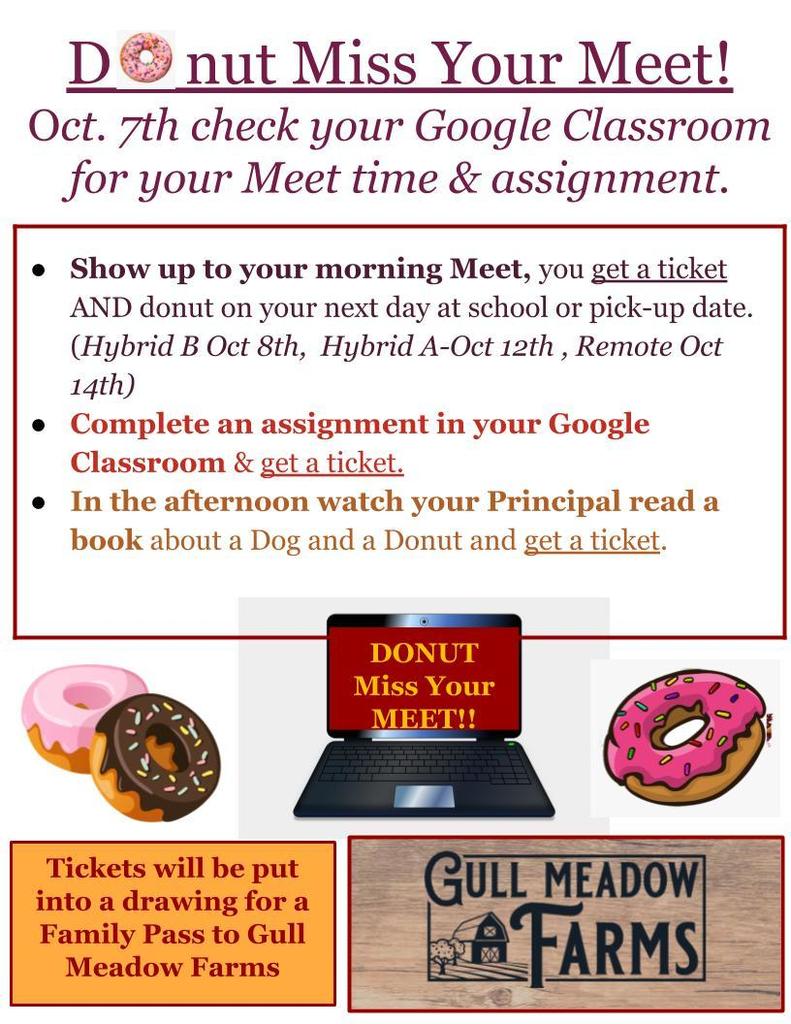 REMINDER!!! Packet pick up for remote students is Wednesday, September 30th 1:00-4:00 at the Highschool. Please drive around back and stay in your car, someone will be there to get your packet for you.
Please read the letter for an update on Chromebooks.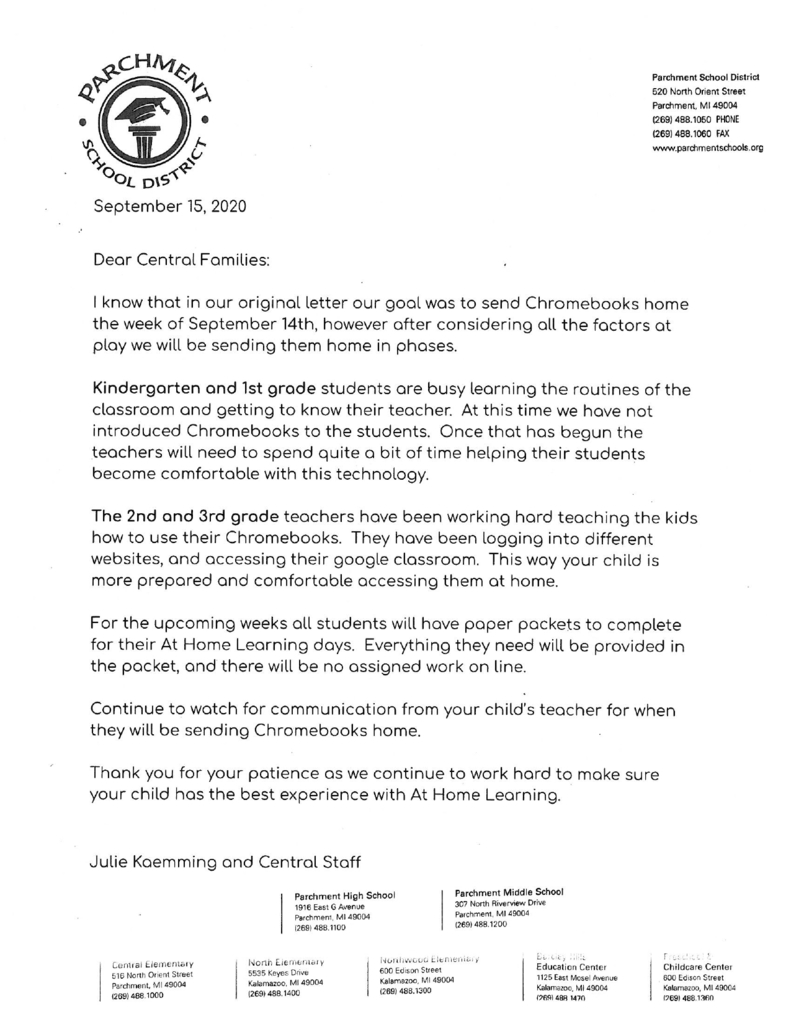 If you don't have access to the internet here are some free internet resources.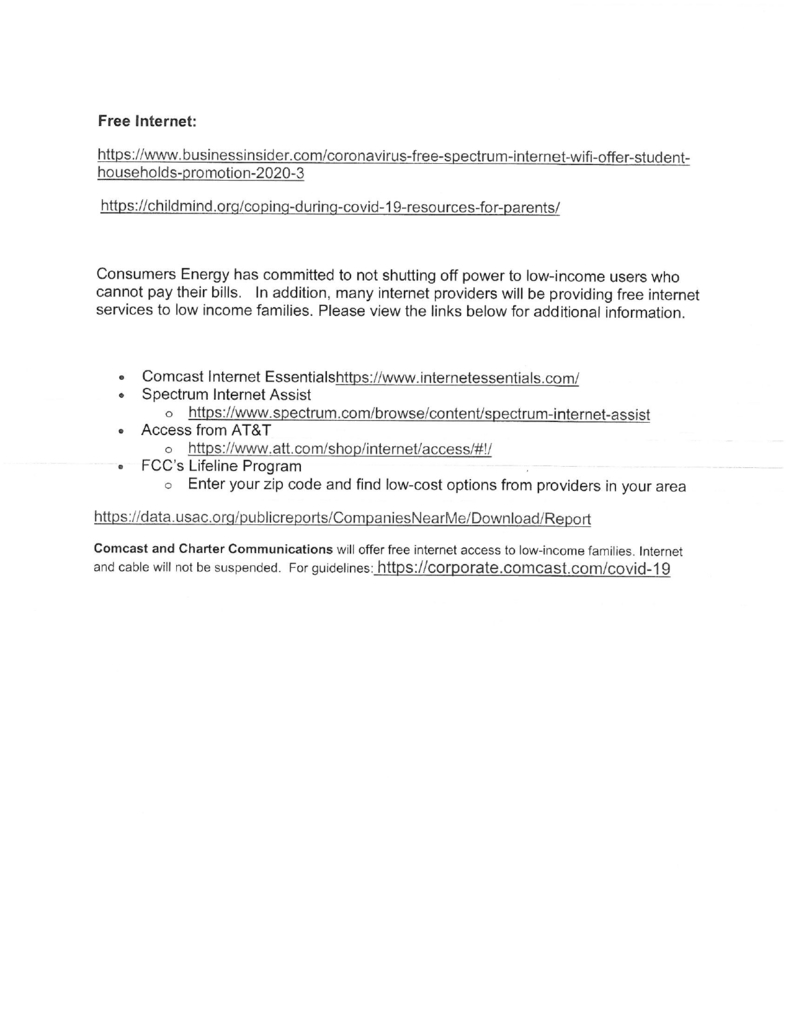 Central's Back To School Newsletter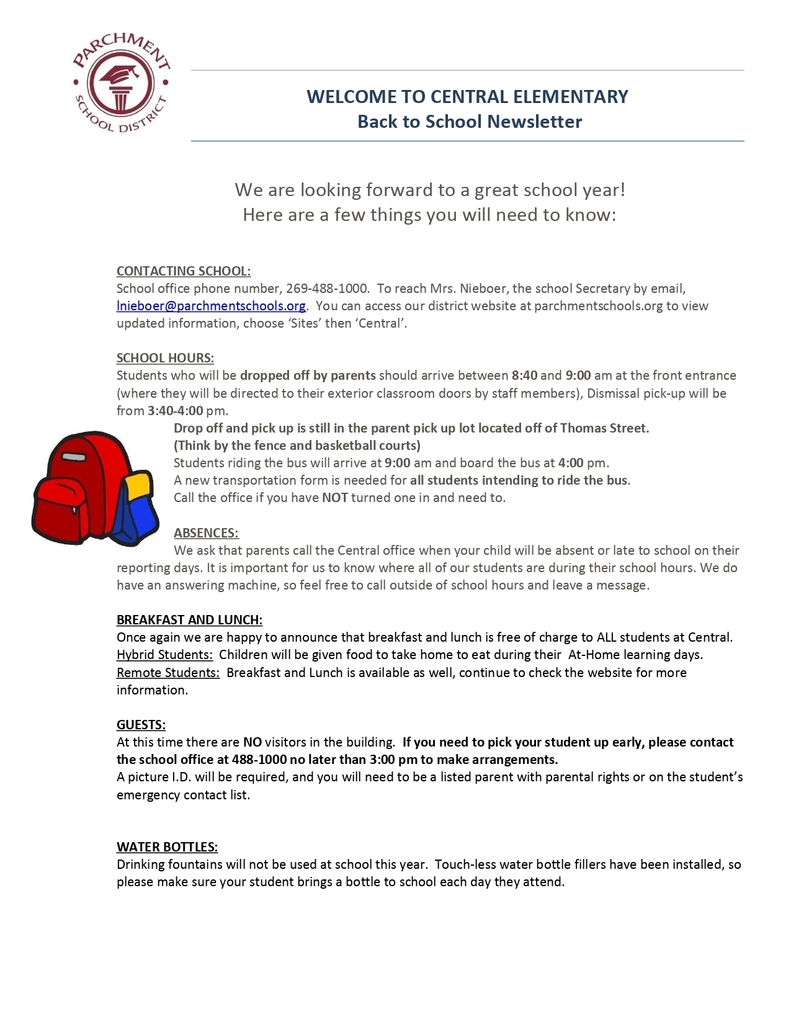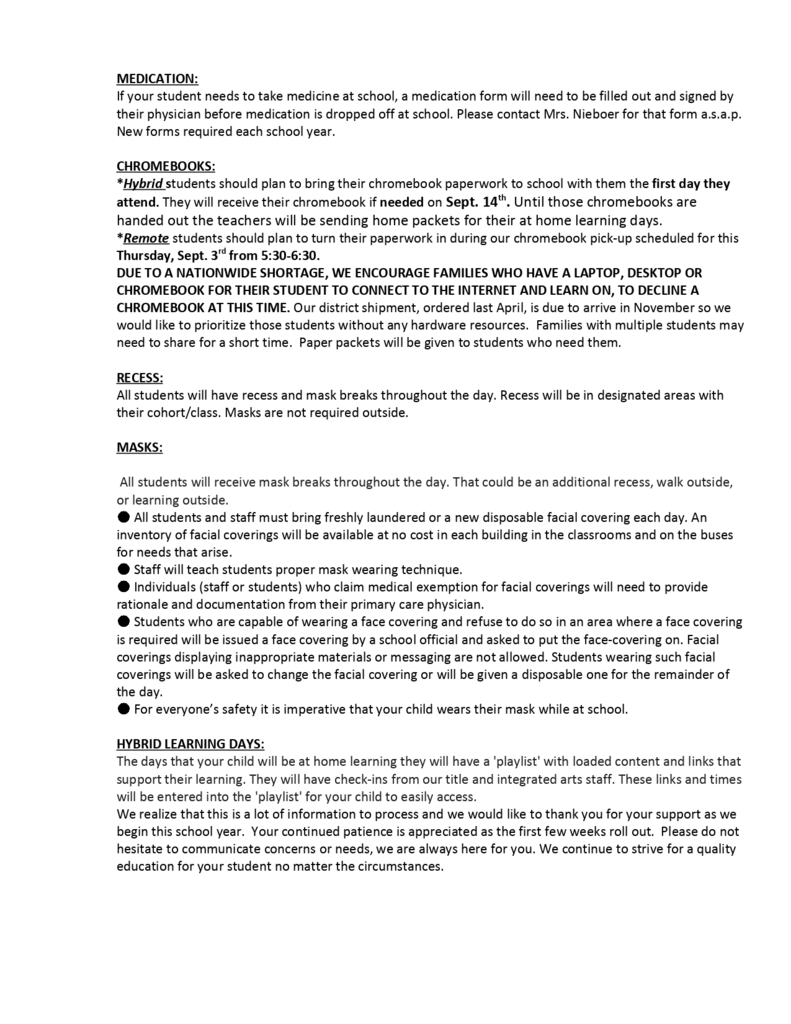 A mailing went out today with who your child's teacher is and information about chrome books. Last time it took between 4-6 days for people to receive the mailing so hopefully you have it by the middle of next week. Chromebook pick up for PARCHMENT REMOTE students is September 3rd from 5:30-6:30, please refer to the mailing so you bring all the necessary paperwork to the pick up. HYBRID students will get devices on their first day of school if we have enough, as long as the necessary paperwork is turned in that day. We are hopeful but CAN NOT GUARANTEE that all students who need devices will get them. If you have a device that your student can use please do not ask for a device from us, this way those who truly need one can have one.