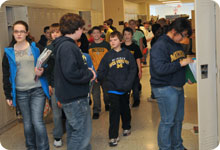 For enrollment information and forms please contact the office anytime at (269) 488-1200.
We ask that parents bring:
Proof of residency; i.e. lease agreement, utility bill, home purchase agreement in parent name at the address within the boundaries of the district.

If not a resident, a letter of release from their resident district in Kalamazoo County must be obtained for our administration to review.

If a resident of outlying county (contiguous school districts to Kalamazoo County), we participate in Schools of Choice 105c. Application to enroll students can be made the first two weeks of school in August/September or the first two weeks of the second semester to enroll as 105c students.

Birth certificate*

Immunization card*
*For asterisked items, parents have 30 days to provide this information.
For more information, visit the District's enrollment page.