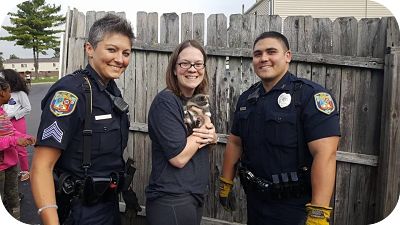 Each quarter we will feature a story about our Parchment alumni here.
By Dave Person
Extracurricular activities don't often get as much credit as academics for preparing students for what lies ahead, but in Kristie Tafil's case what occurred after the school day was over held the key to her future.
"Sports were a big thing," says Tafil, who graduated from Parchment in 1997. "Basketball and soccer, in general, were the only things I cared much about. That was, to me, the most exciting part of high school."
Tafil, currently a sergeant with the Kalamazoo Department of Public Safety, gives her basketball and soccer coaches, Larry Bailey and Kirt Brown, credit for making her high school experience enjoyable.
She still remembers the basketball team going deep into the postseason. "Those were exciting games and a good experience," she says.
After high school, Tafil took classes for a year at Kalamazoo Valley Community College, and also played basketball there.
Hockey was another sport in which she enjoyed participating, and she joined the Western Michigan University women's club team.
"We won club nationals," she says.
During that competition, in Lake Placid, N.Y., Tafil was named the tournament's Most Valuable Player.
Still, Tafil yearned for a higher-level experience.
"I learned that Minnesota had a big following for women's hockey," she says. So she enrolled at Bemidji State University in Bemidji, Minn.
Tafil played Division I women's hockey for Bemidji State from 1999-2002 and also had the opportunity to try out for the U.S. women's Olympic hockey team in Lake Placid.
"It was in '99 I went there and played hockey with several Olympians and other collegians," she says. "I didn't end up making it (on the Olympic team) but it was quite an experience."
She graduated from Bemidji State in 2002 with a degree in sports management.
Tafil, whose parents still live in the Kalamazoo area and whose younger sisters live in Grand Rapids and Lansing, moved back to the area in 2004 for family reasons.
"Once I moved home, I had friends that were police officers and I realized that they were just real people. I never considered it (previously), but once I met so many police officers and started hanging out with them, I decided this is what I wanted to do."
In 2007, she attended the police academy, and two years later she was hired by the city of Kalamazoo as a public safety officer.
She currently works out of the department's operations division and also serves as an instructor in defensive tactics and firearms.
Tafil, 40, says she enjoys the unpredictability of the job.
You don't know what you're going to get from day to day; it's the unknown," she says. "There are so many things that I see on a daily basis, or could see. It's never boring. There's just always something different."
"I am still surprised, almost daily, at the things I encounter; it's an entertaining job."