EDUCATION FOR EMPLOYMENT (EFE) PROGRAM
Parchment High School's Education for Employment (EFE) program is administered by the Kalamazoo Regional Education Service Agency (KRESA). The program provides today's students with the skills, abilities and knowledge needed to succeed.
Selected as one of five exemplary school-to-work transition programs in the nation, and personally recognized by President Clinton, Kalamazoo County's Education for Employment program is for all students.
During high school, more than 50 percent of the students in Kalamazoo County choose to specialize in occupational programs through school-based and worksite offerings. Education for Employment creates well-marked paths students can follow to move from school to work and from school to continued education and training. The system combines quality academic classes at school with hands-on learning and training in the workplace.
Learn more about Education for Employment on the KRESA website.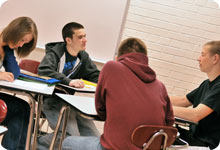 Length Of Course: 3 Trimesters (students must remain in program all 3 trimesters)
Prerequisites: Application, parent and administrative approval
Grade Level: 11 - 12
Parchment High School juniors and seniors can take Educational for Employment programs off campus at any one of several schools in the EFE Consortium. Students earn 2 credits for their vocational experience. Transportation is provided by the district to selected programs. If transportation is not provided by the school, it will be the parent's responsibility to provide transportation. ?
These programs can provide you with the skills to obtain an entry-level position in your chosen field as well as the foundation needed to pursue advanced education. Consider your special interests, abilities and talents as you continue your career planning. Don't limit your choices to traditional male/female occupations. Explore your possibilities-there are no limits! High school counselors can provide specific program and enrollment information.
EFE CAREER PATHWAY AND COURSE DESCRIPTIONS
COOPERATIVE EDUCATION (CO-OP)
Cooperative Education is an opportunity for students to "earn while they learn." Co - op is a method of instruction, through written cooperative arrangements between school and employers, providing students with an opportunity to extend their Career/Technical Education preparation beyond the classroom.
Students who have completed at least 50% of an Education for Employment class can gain valuable work experience, while earning both money and high school credit. It's a great opportunity to increase awareness of the broad spectrum of occupations in an area of interest, and practice teamwork in the real working world while developing positive work attitudes and habits.
Participating students shall:
Be employed in a coordinator-approved work setting

Work 10-15 hours per week in class-related, legal employment

Receive release time from school, school credit, on-the-job training, and pay

Will be evaluated every marking period by his/her employer
Prerequisite: EFE/CTE related class. Successful completion of 50% and continued concurrent enrollment or EFE/CTE completer status.
NOTE: Students are not to be officially enrolled in co - op until the Co - op Coordinator has approved their application and job site. Additionally, employment is subject to forces outside of the control of the school district, therefore employment cannot be guaranteed. For these reasons, it is recommended that students maintain a full schedule of classes until all conditions are met.