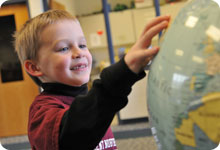 For enrollment information and forms during the summer break please contact our district Administration office anytime at (269) 488-1054.
We ask that parents bring:
Proof of residency; i.e. lease agreement, utility bill, home purchase agreement in parent name at the address within the boundaries of the district.

If not a resident, a letter of release from their resident district in Kalamazoo County must be obtained for our administration to review.

For a resident of an outlying county (contiguous school districts to Kalamazoo County), we participate in Schools of Choice 105c. Forms available on our district enrollment page.

Birth certificate*

Immunization card*
*For asterisked items, parents have 30 days to provide this information.
For more information, visit the District's enrollment page.