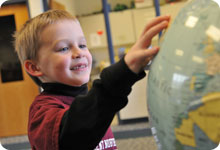 For enrollment information and forms during the summer break please contact our district Administration office anytime at (269) 488-1054.
We ask that parents bring:
Proof of residency; i.e. lease agreement, utility bill, home purchase agreement in parent name at the address within the boundaries of the district.

If not a resident, a letter of release from their resident district in Kalamazoo County must be obtained for our administration to review.

For a resident of an outlying county (contiguous school districts to Kalamazoo County), we participate in Schools of Choice 105c. Forms available on our district enrollment page.

Birth certificate*

Immunization card*
*For asterisked items, parents have 30 days to provide this information.
For more information, visit the District's enrollment page.
Young Fives Enrollment
Click here to fill out the inquiry form if you are interested in Young 5s for the 2022-23 school year.
Your child must be 5 years old between June 1 - December 1 of the current year. Our kindergarten and Y5 round-up dates for Northwood Elementary are: Tuesday, May 17th, 5-6:30pm.
If you are having trouble deciding whether young 5s or kindergarten is right for your future Panther, Click here for a helpful PDF.