CENTRAL ELEMENTARY CONTACT INFORMATION
CENTRAL ELEMENTARY EVENTS
PARCHMENT CENTRAL ELEMENTARY SCHOOL

Kindergarten - 3rd Grade
Welcome to Central Elementary - where we put children first! The staff is dedicated to meeting the needs of your child and making his/her school experience a positive one.
We welcome your questions, comments, and concerns at any time. We pride ourselves on looking at the whole child and working together to meet each student and families' individual needs.
Great beginnings start at Central Elementary!
CENTRAL STUDENTS "SHOP WITH A COP"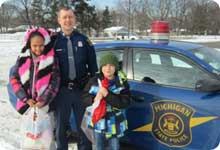 On Wednesday, December 17th two students from Central Elementary "Shopped With a Cop". State Trooper Mark from the Paw Paw State Police office took them to Arby's for lunch and to Meijer's with a $100 gift card. The students selected gifts for family members and the officer had the gifts wrapped. Each student was able to ride in the front seat of the police car on the outing.