EDIT MAIN
Parchment School District Libraries
Welcome to the Parchment School Library Media Centers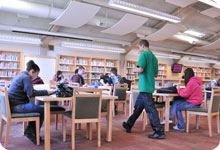 Free Access to eBooks
This summer, Capstone is providing free access to thousands of ebooks that can be read from school, home, or on-the-go. These eBooks can be used with a laptop or desktop computer or an iPad. You will need a login and password. Click to access the details on the PDF flyer.
Summer Reading Lists for 2018
The Parchment School District has Suggested Summer Reading Lists for students entering grades 1-12 in Fall. It is recommended that students select the list for the grade they will be entering in the fall. A copy of the lists has been handed out to current students, and is available at the Parchment Community Library. Happy Summer Reading!
The Library Media Centers currently have student computers available for student use before school, after school, and during the school day.
Students may have up to 3 books checked out at a time.
All of the district library catalogs are now available online. If a book is not available in one building's library, it may be checked out from another. Please browse our catalog.
Have a reference question? Need to renew a book?
Click here to ask Ms Manley!
Middle School Information
Attention Students: Library check out is now being done using your school I.D. Please bring your school I.D. when you check out books.
High School Information
Attention Students: The Parchment High School Library announces a partnership with Driving-Tests.org, a company dedicated to driver safety and education, to offer free Department of Motor Vehicles (DMV) practice tests to library patrons. The new service includes free tests specifically based on the state s DMV materials. It is the only site of its kind to include accessibility tools that let users hear selections read aloud, make them into MP3s, translate pages into other languages, magnify text, and mask portions of the screen for greater visibility on the practice tests.
This partnership allows the Parchment High School Library to harness the power of Driving-Tests.org s specialized practice exams to turn new drivers into safer drivers. The new program will work as an outreach to several valued groups of patrons, including teens, those with disabilities, and seniors who need to take a renewal exam, as well as patrons at every other stage of life.
To access the practice tests, please go to http://parchmenths.driving-tests.org.
Attention Community Members
The High School Library is now collecting used ink cartridges, cell phones, MP3 players, laptops, and digital cameras for recycling. Every item we recycle earns money for the library. Please send any items you may have to Ms Manley at the High School. Thank you for your support!
The Middle School Library collects Box Tops for Education labels to purchase books. Please send your Box Tops labels to Ms Manley at the Middle School. We appreciate your support!
Library Contact Information
Amy Sue Manley, District Librarian
(269) 488-1119
Email Ms. Manley