EDIT MAIN
Principal's Desk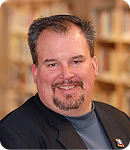 Principal's Desk...
The Parchment High School faculty and staff welcome students, families, and friends to our building. Parchment High School strives to provide opportunities for you to be involved in the planning of our future and helping our students in becoming positive, contributing members of our community.
If you've not had the opportunity to visit in awhile I encourage you to do so to see all of the new and exciting things that are going on in and out of the classrooms. Our teachers continue embracing all of the state of the art technology in their classrooms, making learning more interesting, relevant and fun!
Through all of these updates we are highly motivated to continue on with our mission. Our mission at Parchment High School is:
"Strive To Create A Learning Community Where Our Students Can Thrive Academically, Socially and Personally."
(C.L.A.S.P.)
We also work very hard to create a safe and supportive educational community for our students so they can thrive in the above areas. We consider all of our students, staff, parents, and community members as active participants in the education of our future generation. We take pride in offering academically challenging courses with a technologically rich curricula to equip our students with the knowledge and skills necessary to compete in an ever changing global society.
Education comes in many forms. Parchment High School offers many programs to assist and enhance student learning. Some of these programs include After-School Mentoring, Focus classes, National Honor Society (NHS), EFE/EFA, Dual Enrollment, Academic Enhancement (AE), DECA, HOSA, Student Council and athletics and many other educational opportunities. The high school experience students have, is one that they will choose to make of it. We encourage all of our students to become active members of the student body and make their high school years as enjoyable and rewarding as possible.
Our teachers facilitate learning through the use of many researched-based instructional strategies, analyzing student data to improve teaching and learning. We also continue to build, foster and focus on relationships with all of our stake holders.
Parchment School District continues to partner with NCA and Advanc-ED for our school improvement process. Our staff has been working very hard developing our school improvement plan (SIP). We continue to bring in Mark Dressel, from the John Collins Writing program to work with our teachers (district wide) to better implement writing across the curriculum. We continue to research design and implement High Quality Formative Assessments for our students, to gauge levels of learning, allowing teachers to adjust instruction as needed. The other area of improvement that we will continue to focus on is in the area of Informational Reading. Our data has shown that our students struggle in the area of ELA (English Language Arts), primarily in the area of reading. This does not mean that that they are unable to read, but struggle pulling out important information from text to answer questions or difficulty in reading charts and graphs.
We look forward to continued positive working relationships with all of you, knowing that, together we will ensure a quality education for all of our students. If you have any questions regarding Parchment High School, please call us at 488-1100.
Respectfully,
George Stamas