EDIT MAIN
DECA
Parchment DECA is a business club offered to all students in the Marketing and Marketing Management classes for Juniors and Seniors. The DECA club offers students the chance to compete in areas of business, earn scholarships, and travel around the state and country. The program is advised by Mr. Jan Olweean.
Please visit the High School events calendar to find information on DECA activities.
District Conference 2013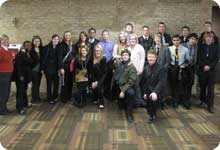 This year's 2012-2013 DECA District Conference was held on December 18, 2012 at Kalamazoo Valley Community College. Thirteen local schools sent their respective DECA chapters to compete in marketing disciplines. The total competition numbered 696 students. Parchment DECA sent twenty-two students from the marketing program to compete. Eight students received medals in a specific category, two students qualified to represent Parchment at the DECA State Competition in March in Grand Rapids. We also had five students who qualified as alternates for the state competition this year.
Congratulations to the Parchment DECA team!
Two students went on to compete at the State Level. Matthew Champion and Cristien Arzate both performed well in their events but did not make it on to the next level. Their experience at the state competition went well. The weekend was full of events including: meeting new friends and making connections with local business people and competing in their events.
Pictures of this event can be seen in the DECA District III PowerPoint (PDF)
| Student | Award | Area of Competition |
| --- | --- | --- |
| Cristien Arzate | Medal on Test | State Qualifier |
| Matt Champion | Medal on Test | Role Play |
| Mady Claflin | Medal on Test | Hospitality & Tourism Team |
| Charlie Eaton | Medal on Test | Sports and Entertainment Marketing |
| Mason Higby | Medal on Test | Travel and Tourism Team |
| Madeline Lacy | Medal on Test | Hospitality Services Team |
| Robert Meeth | Medal on Test | Business Services Marketing Series |
| Lucas Silva | Medal on Role Play | Principles of Marketing |

District Award Winners
DECA Contact
Jay Olweean, Advisor
(269) 488-1172
Email Mr. Olweean