EDIT MAIN
Career Pathways
The four years of high school from ninth grade to twelfth grade can be an exciting and rewarding time for students. A very important component in preparing for the future involves Career Planning. Preparing for future educational and career opportunities involves a great deal, and students who are prepared to make these decisions are often times more successful than those students who lack a sense of direction.
There are many factors that determine success in high school. It is important for students to have a focus so they can make the most of the opportunities that lie before them. Parents, counselors, and teachers all play key roles in guiding students through the many challenges that they encounter. It is important to plan early, often, and establish goals.
Career Pathway Planning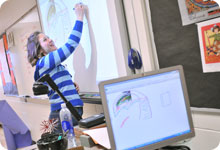 Career Pathways are clusters of related occupations that require different levels of education and training. People working in a career path share similar interests, abilities, and talents. Career paths help students identify a career focus without being locked into a specific occupation. By exploring career paths, students expand future choices. They develop an understanding that all paths are important - all of them are needed to keep a community going.
Participation in a well-organized, well-planned career development component, which includes the concepts of Career Pathways, directly affects both readiness for employment and actual employability success; students' performance in school improves, involvement in school and community activities expands, decision-making skills strengthen, career preparation advances, and flexibility for meeting change increases.
In addition, students who continue formal education beyond high school have a clear direction and a better understanding as to why they are pursuing post-secondary education and training options. There is an understanding that learning is lifelong.
The State of Michigan has developed a six-career pathway program. Every occupation in the world of work would fall within one of the six pathways identified.
The State of Michigan Career Pathways Models
Choose a career pathway below to discover which pathway best matches your interests.
Arts, Communications & Media
The Arts & Communication pathway includes careers related to the humanities and performing, visual, literacy, and media arts. These may include creative or technical writing, illustrating, graphic designing, publishing, theater arts, journalism, languages, radio and television broadcasting, photography, advertising, and public relations.
Examples of career options may include:
advertising and public relations
creative writing, film production
foreign languages
journalism
radio and television broadcasting
interior and fashion design
theater and performing arts
graphic design
Business, Management, Marketing & Technology
The Business, Management, Marketing, and Technology (BMMT) pathway includes careers related to the business environment including computer/information systems, business ownership, economics, marketing, sales, finance, office administration, personnel, and hospitality/tourism management.
Examples of career options may include:
computer operator
computer programmer
network technician
software or hardware engineer
webmaster
market research analyst
human resources manager
hotel manager and entrepreneur
Engineering/Manufacturing & Industrial Technology

The Engineering/Manufacturing and Industrial Technology (EMIT) pathway encompasses careers associated with the design, development, production, installation and maintenance of products or physical systems. The many fields in this pathway include careers in automotive and equipment service, building construction, chemical process technologies, and all aspects of manufacturing.
Examples of career options may include:
electrician
electrical engineer
robotics operator
manufacturing engineer
architect
electronics technician
mechanical engineer
heavy equipment operator
plumber
heating, ventilation, and air conditioning technician
collision repair technologist
Health Sciences

The Health Sciences pathway encompasses careers related to the promotion of health and treatment of injury and disease. This area would be of interest to people who are interested in how the body works and who care about the well being of people and animals.
Examples of career options may include:
physician
nurse
veterinarian
physical therapist
dentist
Human Services
The Human Services pathway
encompasses careers related to childcare, civil service, education, and the social services. These may include law and legal studies, public administration, child and family services, education, government, law enforcement, leisure and recreation, military, religion, social services, and personal services.
Examples of career options may include:
postal worker
police officers
lawyers
teachers
counselors
school administrators
firefighters
clergy
social workers
Natural Resources & Agri-Science
The Natural Resources & Agriscience pathway encompasses careers related to agriculture, the environment, and natural resources. These may include agricultural sciences, earth sciences, environmental sciences, fisheries management, forestry, horticulture, wildlife management, and many agribusiness and agro-industrial occupations.
Examples of career options may include:
veterinarian
animal scientist
entomologist
bio-technologist
genetic engineer
plant cloning technician
laboratory technician
biologist
botanist
meteorologist
taxidermist
conservationist