EDIT MAIN
Vision & Mission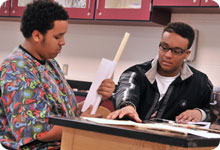 The Parchment School District, a premier district in Southwest Michigan, will value and nurture the talents and uniqueness of each student by challenging and engaging every learner's mind. In cooperation with families and the community, the District will create an environment for life-long learning preparing each student for future life challenges.
We believe the Parchment School District is a learning organization, built upon integrity. Accordingly, we have agreed to the following Guiding Principles.
The Parchment School District will:
Provide a safe and secure educational environment.
Ensure that all students are provided engaging and relevant learning opportunities challenging them to think and reason critically.
Partner with families and the community to create an environment for self-motivated, empathic, life-long learners that are valued within the school and community.
Prioritize district structure, programming and instruction maximizing educational opportunities for all students.
Ensure that published bylaws and policies will guide all decision-making in the district.
Utilize collaboration, research, and data in the decision-making process.
Demonstrate fiscal responsibility to assist in reaching the District's vision and goals.
Employ respectful, knowledgeable, passionate and innovative staff members who model appropriate character and ethics.
Develop each student's ability to critically analyze information and data.
Mission
To ensure that all students are challenged to excel in their individual intellectual and social growth, while achieving those essential academic and interpersonal skills necessary to become a successful, contributing member of society.
All Parchment Graduates Will Be:
Self-directed, competent learners who:
Plan and organize effectively.
Apply basic academic skills competently.
Think logically and independently.
Problem solve efficiently.
Identify, access and integrate information.
Responsible citizens who:
Involve themselves in the democratic process and community service.
Understand and implement environmentally responsible behavior.
Demonstrate an understanding of the multi-cultural nature of our society.
Contribute to family stability by utilizing communication, parenting and conflict management skills.
Make wise consumer decisions.
Collaborative, quality workers who:
Communicate effectively through writing, speaking and listening.
Work cooperatively as a member of a team.
Perform when appropriate as either leader or follower.
Strive to produce a quality product.
Independent, healthy adults who:
Utilize coping and stress management skills.
Demonstrate career planning and job finding skills.
Take responsibility for personal work and behavior.
Set and work toward short and long term goals.
Involve themselves in "healthy" leisure time activities.
Future-oriented thinkers who:
Utilize and apply technology to solve problems.
Demonstrate openness to new ideas and processes.