EDIT MAIN
Superintendent's Desk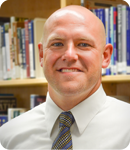 This letter will find you near the Thanksgiving holiday and we hope that you are preparing for a memorable holiday season. I have found it highly valuable to reflect on what I am thankful for in this season, both personally and professionally. In this letter I want to share a brief summary of what I am thankful for in our wonderful school district. Obviously, this list is not completely exhaustive. That could be a novel! As you read this I hope that you can reflect on your family s school experience and be thankful alongside me.
What am I thankful for?
Children
We have wonderful students in our district! I have the unique opportunity to interact with over 1,665 students on a daily basis from Pre-K to 13th year. Every one of them brings us joy and inspires the passion that drives our career. Whether it be an interaction with kindergarten student beaming with energy and joy or speaking to a 12th grade student as they apply and select their college or career choice, I am thankful for the opportunity to be employed in this capacity.
Staff
It would be impossible for me to overstate my gratitude to our highly qualified staff working for children every day. I am thankful to work for these 262 amazing educators. People make a system successful, not a leader. This collection of administrators, teachers, secretaries, bus drivers and support staff are the face and function of our district. They are here because they care deeply about the betterment of our children through a whole-child approach to education.
Families and Community
This community raised me and continues to mold me to this day. I am thankful for the support and collaboration our families and community with the school district. We reside in a special place where the schools and community do not feel or act separately. Instead of being mutually exclusive of one another we seamlessly mesh into one whose common good is the care of our children. I am thankful that this is the expectation in our community. You can go a lot of different places and never find a place that supports one another like we have in Parchment. It takes a village.
Board of Education
I am thankful to be employed by a group of individuals who are united in their passion for children in our schools and community. This is a forward thinking group with a deeply rooted drive for servant leadership. This is most recently evidenced by their strategic planning initiative that will set the vision, mission and 3-5 year plan for our district from all stakeholder input.
In my professional life, I am most thankful for the opportunity to call my passion a career.
What are you thankful for?
I encourage you to reflect on the things in your life to be thankful for in this season, and all seasons, in all facets of your life. I think that we will all see that we have a lot to be thankful for and that we have more that binds us than separates us.
With many thanks,
Jason P. Misner
*As a district initiative we are all sharing and promoting our love of reading. Starting with this letter there will be a section below my signature to indicate what I am reading currently. Disclaimer-I read multiple books at the same time! Please help us promote a love of reading in your home as well!
What Mr. Misner is reading:
The Incomplete Guide to Running; Peter Sagal
The Last Days of Night; Graham Moore (second reading)
Innovate Inside the Box; George Couros and Katie Novak