EDIT MAIN
Make Parchment Your Schools of Choice District
At the June 2010 Parchment School Board meeting, the Parchment School District became a Schools of Choice district. As a Section 105 and 105C district, Parchment is now open to any students within Kalamazoo, Calhoun, Allegan, Barry, Branch, St. Joseph, and VanBuren Counties. Parchment will no longer require a release from your home district within Kalamazoo County during two designated open window periods - fall and the beginning of the 2nd Trimester.
To have your child/children attend Parchment for the 2020-21 school year as Schools of Choice students, you can submit an application. The applications must be received in school building offices by Monday, August 21, 2020 to be considered for attendance as Section 105 / 105c students when school starts in the fall.
Applications for 105/105c enrollment can be found at the link below and can be turned in at any time to district school offices.
2020 - 2021 Schools of Choice Applications
Challenging & Engaging Every Learner's Mind
The Parchment School District, a premier district in southwest Michigan, values and nurtures the talent and uniqueness of each student by challenging and engaging every learner's mind. In cooperation with families and the community, the district creates an environment for lifelong learning to prepare each student for future life challenges.
Quick Stats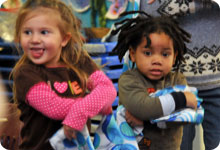 94.87% High School graduation rate
K-12 Enrollment: 1,705
Average Class Sizes:
Grades K-5: 23
Middle School (6-8): 26
High School: 23
Barclay Hills: 20
7,715 Professional Development hours completed annually by teaching staff 70% of all teachers hold advanced degrees.
Forward Thinking
Parchment School District's curriculum focuses on creating an environment that fosters competent, responsible and collaborative students to take forward-thinking attitudes into the community.
Now Offering Full-Day Kindergarten
The Parchment School District offers a full-day experience for all Kindergarteners.
Renovated High School
A total of 142,353 square feet, our renovated high school includes 38,927 square feet of newly constructed space. New features at the school include security enhancements, a gymnasium, cafeteria and administrative office space.
Innovative Technology Programs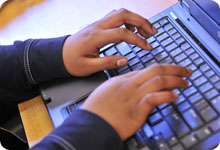 Classrooms in the high school are equipped with data projectors, sound systems, document cameras and/or smart boards. There are also 125 netbooks for student use.
Students utilize MP3 players to read and record their own papers, enabling them to analyze and improve grammar and writing skills.
Parchment served as a pilot project for a tool called "I Am Online" in which students and teachers communicate online through a process of writing self-reflective essays.
Alternative Education Program
Barclay Hills offers a high school completion program and a GED program for students aged 16-19.
Preschool & Childcare
Located at Northwood Elementary, this is a non-profit, fee-based, state licensed program which is designed to meet the needs of working parents through preschool and childcare for preschool through school age children.
Special Education
District staff includes school social workers, speech pathologists, certified teachers and a teacher consultant, as well as a community mental health liaison.
Extras
AP classes & dual enrollment
Certified library media specialist
Art, music & physical education classes
Guidance & after school mentoring
Award-winning band program
Well Rounded
At Parchment School District, we believe that unique programs and extracurricular activities provide a critical component to a well-rounded educational experience.
Sports
Baseball
Basketball
Bowling
Cheerleading
Cross Country
Football
Golf
Ski Team
Soccer
Softball
Track
Volleyball
Wrestling
Extracurriculars
DECA Marketing Club
Grad Bash
National Honor Society
Student Council
Yearbook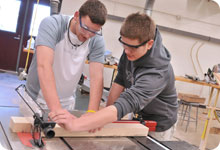 Awards & Accolades
Parchment School District is the First in Kalamazoo County to receive District Accreditation from the AdvancED Accreditation Commission, recognizing Parchment as a quality school system. The North Central Association Commission on Accreditation and School Improvement (NCA CASI) conferred their accreditation seal on the Parchment district in December 2011.
The Michigan Association of Secondary School Principals (MASSP) and the
MEEMIC Insurance Company have recognized Parchment High School and our school improvement team with the 2010-2011 Ready, Set, Success Award.
Parchment High School & Middle School Libraries Received a Library of Michigan Endorsement for Meeting Qualified Status of School Library 21 Program.
U.S. News & World Report Bronze Medal for America's Best High School 2008.
Michigan Association of School Administrators (MASA) Winners' Circle Award to Parchment Middle School in recognition of its Focus Program.
In 2010 the Parchment High School Band performed at Disney's Magic Kingdom and the Kennedy Space Center by auditioned invitation.
In 2010, the Parchment High School Symphonic Band was one of two Michigan high school band ensembles selected to perform at Western Michigan University's Spring Conference on Wind and Percussion Music with guest composer Dr. Robert Sheldon.
"Standard of Excellence" WebAward from the Web Marketing Association
for outstanding achievement in web development in the "Schools" category for www.parchmentschools.org.
Questions?
Contact Parchment School District Administration
520 N. Orient Street
Parchment, Michigan 49004
(269) 488-1050