EDIT MAIN
Parchment Schools Foundation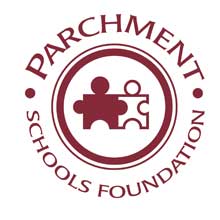 2018 Teacher Mini Grant Applications Now Available!!
2019 Academic Scholarship Applications Coming Spring 2019
---
Mission
The Parchment Schools Foundation, a charitable organization, facilitates educational opportunities by providing funding and support to staff and students for innovative, progressive learning ideas that will promote success in the Parchment School District.
Vision
The Parchment Schools Foundation envisions that staff, students, local businesses, and the general public will be aware of the Foundation's involvement in the District and be inspired to contribute their time, talents, or funds to join the movement for student success in Parchment
Goals
To communicate the Foundation's purpose throughout the community.
To have a fundraising plan to insure financial support from within the school community.
To entertain requests for funding in situations which stimulate community involvement and support the education system.
To provide "seed" funding for projects to enhance the educational system.
Projects
Holiday Sharing Donations
Annual academic and vocational scholarships
Annual grants awarded to classrooms and/or buildings to fund educational projects
Oversight of various funds
Memorials & Bequests
A monetary gift to the Foundation will provide a lasting and loving memorial for a friend or loved one who passes away
Living trusts can be set-up to ensure your legacy lives on in the Parchment Educational Community
Foundation Board of Trustees
Contact
For more information on getting involved with the Foundation, or to learn how to leave a memorial or bequest fund, please contact the Parchment School District Administration office at (269) 488-1050 or get in touch with any of the Foundation members.