EDIT MAIN
Employment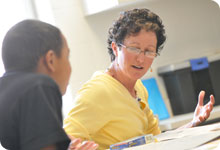 If teaching or support staff positions are available, you will find employment opportunities for Parchment School District listed on the AppliTrack website (link below).
Employment Opportunities
If you are interested in any positions posted on this site, please complete an online employment application on the AppliTrack website.
Applitrack - Kalamazoo County Area Schools Employment Consortium's Online Application
Substitute Teachers
The Parchment School District contracts on-call substitute teachers through the K-RESA AESOP substitute service. For more information on AESOP contact the K-RESA office at (269) 250-9200 or stop in at 1819 E. Milham Road, Kalamazoo, MI 49002.
Aides
If there are aide positions available they will be posted on the AppliTrack link above.
Substitute Bus Drivers
Parchment School District is hiring certified bus drivers as substitute drivers for available routes in the transportation department.
If interested in transportation support positions, please contact:
Anne Brow or call 488-1091.
Clerical Subs
Parchment School District retains applications of interest for clerical substitutes. An application or letter of interest can be forwarded to the Parchment Administration Office at anytime: 520 N. Orient St., Parchment, MI 49004.