EDIT MAIN
Elementary Student Handbook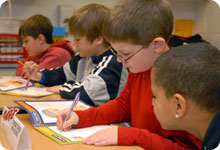 The purpose of the Parchment School District is to provide and promote learning opportunities, and to create a conducive environment for people of all ages to fulfill their vocational and avocational needs. To that end, the Parchment Elementary Schools offer many diverse activities to help develop your child's academic, social, and critical thinking skills.
The process of education cannot be successfully achieved without support and encouragement from everyone involved. Certainly, you, as a parent or guardian, play a critical role in helping each child develop to his or her fullest potential. We sincerely invite and encourage all parents to assist in this process by participating in the many activities and functions scheduled throughout the year.
This handbook has been prepared to familiarize parents and students with relevant information for a successful educational experience. Every family is encouraged to carefully read it and share it with their student(s). If you have further questions, please don't hesitate to call a building principal. Thank you in advance for your assistance.
Parchment Elementary Student Handbook (PDF)
Parchment Elementary School Handbook Contents
The following topics are covered in the Parchment Elementary School Handbook:
American with Disabilities Act
Attendance
Bicycles/Skateboards/Scooters
Birthdays
Bullying
Bus Conduct
Bus Transportation
Discipline and Conduct of Students
District-Wide Infractions
Emergency Drills
Extended Absence from School
Field Trips
Health Services
Homework
Immunizations
Internet Use
Lost and Found
Medications
Parent Concerns
Parents' Association
Parent Involvement
Parent-Teacher Conferences
Reading Services
Recesses
Report Cards
Responsibilities and Rights of Students
Safety to and from School
School Closing
School Day
School Dress and Personal Appearance
School Supplies
Staying After School
Student Release
Student Rules and Regulations
Support Services
Tardiness
Testing
Tornado Watches and Warnings
Toys and Personal Belongings
Visitors
Volunteers
Weapons Free School Zone
Zero Tolerance