EDIT MAIN
Our Program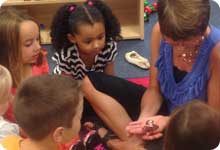 Parchment Early Learning Center (PELC) is a part of the Parchment School District, located in the Northwood Elementary building. We offer a variety of programs for children ages 12 mo-12 yrs.
Here are some answers to our most frequently asked questions:
Do you use any formal curriculum or planning tools?
The center uses the Creative Curriculum, a nationally recognized, researched based, Birth-Five curriculum. This is a comprehensive curriculum that addresses all aspects of teaching preschool children. The curriculum defines what to teach, why the content and skills are appropriate learning expectations for young children, and where, when and how to teach effectively. Please see the director or your child's teacher if you would like more specific information. We would be happy to share! Below is a basic overview.
Here are the five fundamental principles behind our curriculum:
Positive interactions and relationships with adults provide a critical foundation for successful learning
Social-emotional competence is a significant factor in school success
Constructive, purposeful play supports essential learning
The physical environment affects the type and quality of learning interactions
Teacher-family partnerships promote development and learning
Do you offer any sort of tuition assistance?
We do accept tuition help through the Department of Human Services if you qualify. We will bill the State of Michigan directly for families who are entitled to reimbursement of child care costs. You can pick up the extra paperwork needed in the main office. If you are receiving DHS benefits, you are responsible for payment of any amounts not covered by DHS.
Am I able to sign my child up for part time?
For Childcare and School Age Programming, YES! Depending on our current availability, we are able to be very flexible regarding your schedules and needs.
For GSRP Preschool, NO! GSRP is a state-funded program that follows specific guidelines and we are not able to schedule any students part time. All students enrolled in GSRP must attend M-TH 8:30-3:30 and Fridays 8:30-11:30.
To find our more information, please download our Center Policies located on the Forms and Reports page. Learn more about the different programs offered: