EDIT MAIN
Mission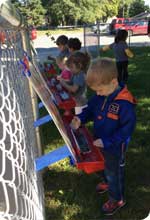 Childcare
PELC's young childcare program exists to provide the highest quality childcare experience to families in the Parchment area. Our staff is committed to continuously love and support the families that entrust their children to us.
GSRP Preschool
PELC's GSRP program exists to prepare children to be successful in Kindergarten, while remaining developmentally appropriate to 4-5 yr old children. Our staff provides opportunities for active and continuous family involvement in order to strengthen learning at home and positive child outcomes.
School Age Childcare
PELC's school age childcare program exists to partner with Parchment School District to provide a complete support for families in our school system. Our staff offers a calm, but engaging environment to students before school, after school, and on days when school is not in session.