EDIT MAIN
Mission
It is the mission of Barclay Hills Education Center to assist each student to achieve their highest potential through individual, flexible and structured educational experiences designed to enhance their academic growth, foster lifelong learning, and to assist in achieving post-high school goals.
Barclay Hills Belief Statements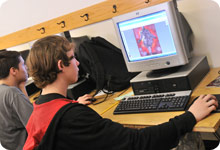 Alternative learners have endured past educational barriers that can be overcome.
The environment we create influences academic, personal and social growth.
Everyone has the right to be treated with dignity and respect.
Only after fulfilling basic human needs can an individual learn effectively.