EDIT MAIN
Enrollment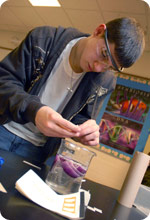 Barclay Hills enrolls students from Parchment School District and surrounding school districts. In the fall, we have an open enrollment period. We will enroll students throughout the school year, depending on space, at the beginnings of our new marking periods.
If students are not Parchment residents, students who are 15 and younger must apply to Parchment School District through the 105 process. Students and parents must meet with the principal and be accepted into the district. Students 16 and older can enroll without a release. All students that intend to enroll will be considered before being accepted into the program. In many cases, a parent meeting is required before admittance. Students who have been expelled or have multiple disciple problems will be carefully considered before admittance. We cannot enroll special education students.
To enroll at Barclay Hills, you may come to our main office at or call (269) 488-1470 to set up a time to meet with the principal. View our contact page for more information on getting to Barclay.