EDIT MAIN
Athletics
Barclay Hills offers students the opportunity to participate in basketball and co-ed softball.
Basketball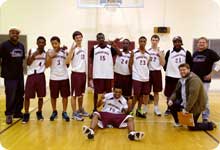 Our team plays in a local basketball league with area alternative schools. Barclay Hills participates with the Michigan Alternative Athletic Association (MAAA) and plays in the state tournament every year.
Coaches: Terry Butcher and Monty Owens
The Barclay Hills basketball team won back-to-back Class C championships in 2006-07 & 2007-08. In 2011, Barclay Hills finished as the Runner-Up for the Class B title. The team placed third in the 2013 tournament.
Co-Ed Softball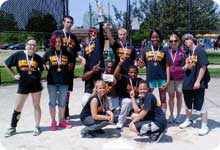 Barclay Hills co-ed softball players compete against other area alternative teams. The team also travels to tournaments throughout Michigan, including the MAAA State Co-ed Tournament.
Coach: Kelly Taunt
In 2012, Barclay Hills won the Spring Swing Softball Tournament.